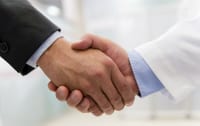 We look forward to helping you help your patients. Referring a patient to Orlando Sports Medicine is an easy process for our referring physicians and patients. Please choose whichever option is best for you and your office.
Online Referral Page
Click here to fill out basic contact information for your referral. We will do the rest by reaching out to the patient promptly and scheduling them for their physical therapy evaluation.
Just give us a call!
You can call us anytime and we will be more than happy to help you with any part of the referral process. We take pride in making the process smooth, informative, and easy for both the referring physician and patient.