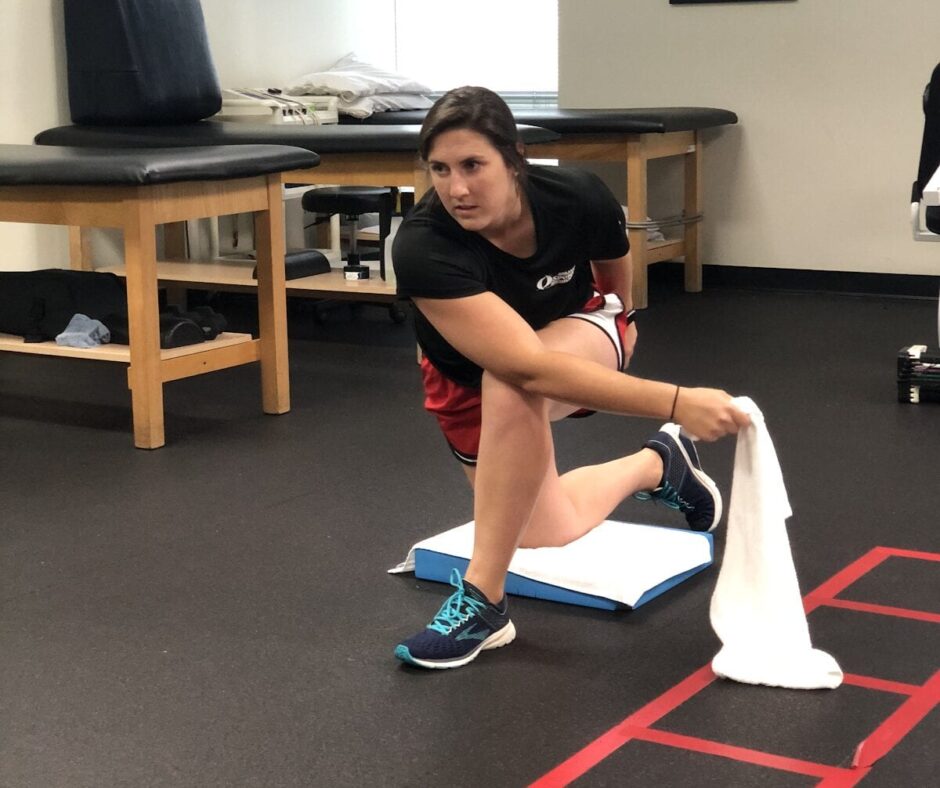 By Brittany Kilduff, DPT –
With seasons derailed due to limitations posed by COVID-19, athletes can view this season as a blessing or a setback. For those who participate in Spring sports, such as Baseball and Softball, you may be feeling lost or indifferent on how to continue developing particular skills. For those who are rehabilitating from an injury, this period buys the athlete time to return to sport appropriately and reduce the risk of re-injury. However, those able and ready to play may feel hindered to continue practicing when their season has been postponed and/or canceled. Regardless, this period of time provides an advantage for the injured as well as the able and ready. This will allow the athlete to get ahead of the curve and periodize their workouts to continue developing their skills.
With newly implemented distancing recommendations, sports teams have discontinued all practices and games. That being said, many athletes will be relying on self-executed skills, drills and conditioning. The recovering injured athlete would typically have access to their athletic trainer for best recommendations to progress return to play. Unfortunately, this option has been eliminated. For those rehabilitating from an injury, it is important the athlete seeks medical attention from a healthcare provider to continue services they require. As essential providers, Orlando Sports Medicine is open and here for you.
For the uninjured athlete, a coach is the best fit for progressing skills, drills and conditioning. This option has also been eliminated. All athletes, recovering or ready-to-play, in this case are at a disadvantage as they will lose hours of practice in throwing, hitting, strength and conditioning, as well as live gameplay.
We can offer a practical solution to help bridge the gap!
For the uninjured athlete, these simple tips can help set you apart from the rest when season is ready to begin again:
Warm-up before you throw, hit, or workout:

This helps increase blood flow to the muscles
Jogging, jump roping, dynamic warm-up (high knees, butt kicks, ladder drills)
Once a light sweat is developed, move on to step 2.
Continue to develop general flexibility:

Full body stretching is critical to reducing the risk of injury
Allows the body to prepare for demands required during throwing, hitting, and conditioning exercise programs
Upper Body Flexibility: Across the chest stretch (posterior cuff), doorway stretch, towel IR stretch
Lower Body Flexibility: hip flexor stretch, hamstring stretch, quadriceps stretch, calf stretch
Continue to throw:

With a partner, parent(s), sibling(s), teammate(s) (keep in mind current CDC recommendations)
Indoor option: towel throws!
Follow an Interval Throwing Program to reduce risk of injury:

Interval Throwing Programs progress each phase by the number of throws and distance.
A crow-hop technique should be used in all phases of the interval throwing program. This technique helps reduce stress and overload on the shoulder, elbow, and wrist.
Return to throwing programs for softball and baseball can be guided by a rehab specialist. Schedule an appointment with us to get started!
Continue with overall strength and conditioning:

With school gyms, community gyms, and most private gyms closed to the public, athletes must get creative in achieving their fitness goals and requirements.

General fitness home exercise programs are flooding the internet and social media

The internet makes it easy to find programs created by trusted sources from licensed healthcare professionals and certified personal trainers.
For individualized fitness programs, come visit Orlando Sports Medicine

Other options, get outside!

Jog, run, sprint, ride a bike, rollerblade, agility ladder, swim, HIIT routine.