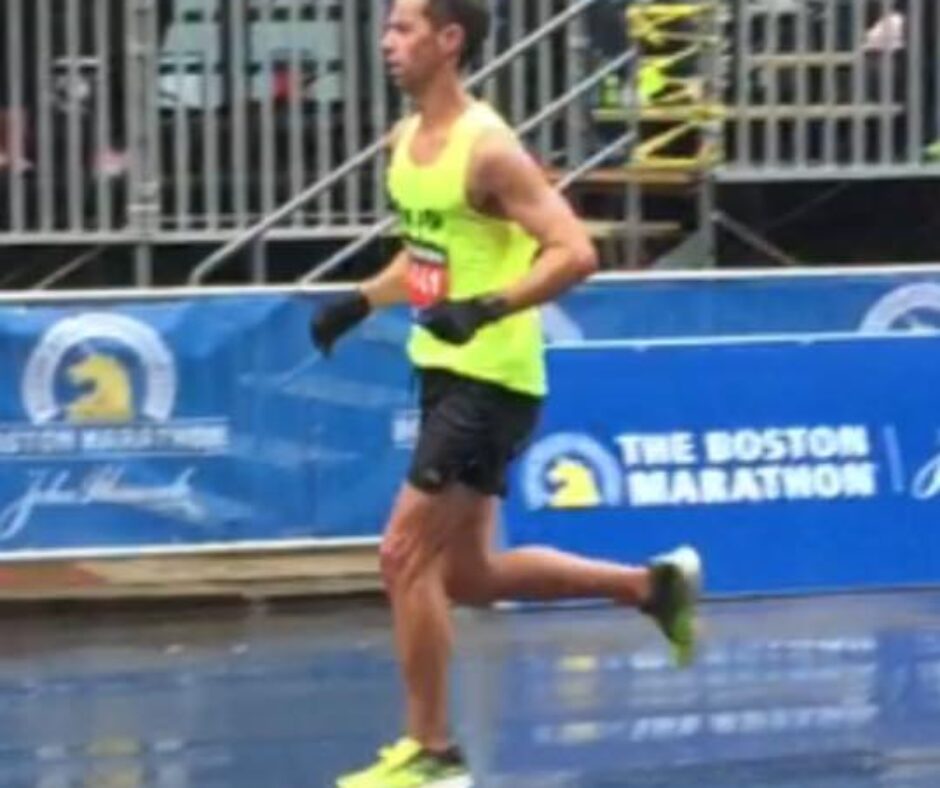 By Peter Buffington, DPT –
This April, I had plans to run a fast marathon in Boston. By fast, I mean fast for me. I wanted to run that distance faster than I'd done it before, faster than 2 hours and 51 minutes. I made a training plan to get myself to that goal, and I have been faithful in the workouts week after week.
Obviously that plan ended last week when the Boston Marathon was cancelled, and my dream of running fast in Boston this year was postponed. Strangely, I wasn't crushed–and that surprised me. There was a bit of disappointment, sure, but it was not nearly as strong an emotion as I'd expected (and that I saw in others on social media).
Why?
I thought about it on my solo (aka "socially-distanced") run this morning.
At my first job with a publishing company, I worked with a small group of exceptional people. One of those people was Charlie Park. He used to say that you have to enjoy the people, the process, and the product in order to thrive in an endeavor. He discovered this by working at his high school newspaper: he enjoyed his fellow writers and editors, he enjoyed the process of putting together a paper, and he was proud of the product when it was printed. I've seen this truth of people-process-product bear out in many situations since, including lesser things like marathon training and greater things like my job.
People.
On this training build-up, I've had the great fortune to run regularly with good people. I'm accountable to showing up to run at 5:05 a.m. on Tuesdays, Thursdays, Saturdays, and Sundays. Takeaway: Find a reliable training group.
I joined the #TrackShack race series and became reacquainted with old friends (and rivals!). Orlando has a great running community. Takeaway: See what resources your local community offers.
My fast friends showed up to help me run some very hard-for-me workouts that simulated the demands of a marathon. Good people, good training partners. Takeaway: Run with faster friends.
Process
The process changed a bit from what I've done in the past, which had been to run as much as I could handle before breaking down. I learned that I could substitute some swimming and biking for easy running. I found it was easier on my body, and it allowed for an active and aerobic recovery without the pounding of running. Though I'll never be a competitive triathlete, I can use aerobic cross training to make me better. Takeaway: Don't be afraid to change the method.
Re-evaluating my choice of shoes and orthotics was an important part of the process this cycle. With new orthotics, I was able to enjoy running more miles and feel better doing it. I had regularly worn custom orthotics and then had stopped wearing them a few years ago. Though they were important in keeping me healthy, they were heavy. I revisited the orthotics, had them re-made this year with lighter materials, and have been able to run healthier–and with better running economy–(ref Tiberio, Heiderscheit)–since then. Takeaway: Footwear matters.
Strength training also made a difference this cycle. I've got a long way to go with the implementation of this one, but it has made the training more fun and more do-able. I know it has made me more resilient (ref acsm). This piece is invaluable to all masters runners. Takeaway: Strength matters.
Product.
"The proof is in the pudding." With Boston being cancelled, I'm not sure how the ultimate product–a fast marathon time–would have turned out. And I'm not going to know with this training cycle. This does bother me a bit. I want to know if this recipe works by examining the product! But this has not been wasted training–this endeavor is more than the product. I'm going to take all the lessons learned this cycle and remember them the next time around.
As I mentioned, I can apply the people-process-product measure to my work as well. I am fortunate to work with and for some great people at Orlando Sports Medicine Group. I enjoy the process of helping people #getbetter. And the product is rewarding to see: people achieving their goals.
—

Links